Summer reading challenge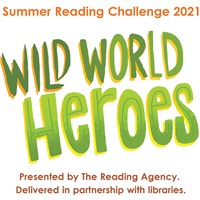 2021's Challenge was set in fictional Wilderville, where the Wild World Heroes had to work together to solve the environmental problems they discovered.
Further information
Each year there is a summer reading challenge hosted by the Leicester library services. We thoroughly enjoyed being involved in the challenge previously, so ran workshops again in 2021 for this very relevant theme! If you are interested in hearing about future updates, please contact us on Eco-Schools@leicester.gov.uk. 
Reading and Activity Workshops
Monday 7 June – Friday 2 July 2021
90 minute physical workshops were available for Years 2 - 6, including a book reading or review and a mix of environmental and literacy activities.
Weekly Challenges
12 July 2021 – 20 August 2021
We hosted mini challenges featuring a different environmental theme here each week, which were featured on our social channels alongside the Wild World Heroes!
Please consider the environment.