Fairtrade schools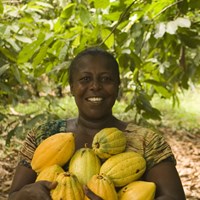 Fairtrade is concerned with better prices, decent working conditions, local sustainability and fair terms of trade for farmers and workers in the developing world. By requiring companies to pay sustainable prices Fairtrade addresses the injustices of conventional trade, which traditionally discriminates against the poorest, weakest producers. It enables them to improve their position and have more control over their lives.
Further information
Fairtrade in Leicester
Leicester was one of the first cities to gain Fairtrade status in 2002 as a result of work by LAFT (Leicester Advocating Fairtrade) - the Fairtrade action group for Leicester.  
Fairtrade in schools
Schools can actively promote Fairtrade with support from resources from the Fairtrade Foundation Schools website. As part of Leicester City Council's commitment to environmental education, free support can be provided by the Environmental Education Coordinator.
Current projects
We work closely with Just, the Fair Trade Shop in Leicester. Currently schools can engage in workshops and activities looking at the story of cocoa and the story Kilombero Rice. Primary Schools may also be interested in participating in the 90kg rice challenge. Contact Just for details of how to purchase the rice.
Previous projects

We have carried out a number of Fairtrade activities to support schools in Leicester on Fairtrade. Take a look at some of them below.
In 2018 we held our annual Fairtrade Schools competition. Congratulations to Scraptoft Valley Primary that achieved first place and Overdale Junior School that achieved second place. Thank you to the Central England Cooperative for sponsoring the event with shopping vouchers. 
During Fairtrade Fortnight 2015, we produce a Fairtrade art trail map produced from student art work. Thank you to Mellor Primary School, Granby Primary School, Humberstone Junior Academy, English Martyrs' Catholic School,  Crown Hills Community College, Sandfield Close Primary School & Rolleston Primary School.
We also ran a Fairtrade poetry competition. Congratulation to Anjum at Avenue Primary School.  Why not read her poem?
Please consider the environment.