Pumpkin garden competition 2022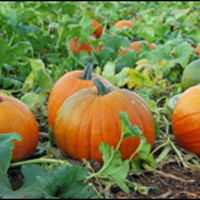 Our pumpkin garden competition will encourage students to grow pumpkins in the school grounds.
Further information
The Pumpkin Garden Competition, encourages students to grow pumpkins in the school grounds.  There will be bonus points for how you use the squash and pumpkins as well as how you deal with the waste e.g. by composting.
This free event is free and open to all schools in Leicester and schools in the traded services.
The competition
Please sign up by 8 April 2022 via this eForm.

By the end of May 2022, each school participating in the competition will be provided with the same selection of pumpkin and squash seeds and a downloadable guide explaining how to grow pumpkins and squash. It is intended that the plants are started off in class and then grown in the school grounds in a designated area.

In November 2022 to be in with a chance of winning you will need to submit a selection of photos and a brief report (which can be done by the students) of their garden which shows the evolution of your garden from planning and planting to cooking and eating and final disposal of your pumpkin shells. The report template is provided as part of the downloadable guide.

As part of the competition you are encouraged to design the garden on a theme of your choice.
The winners of the competition will be the schools that demonstrate the fullest understanding of the lifecycle and uses of pumpkins, as judged by a panel of growers. There will be prizes for first, second and third place.
As part of the competition we will be providing information about composting and recipes with support from Carry on composting.
For further information view the flyers and information sheet located at the bottom of this page.
Supports your Eco-Schools healthy living, school grounds and biodiversity.
Any questions please email growyourowngrub@leicester.gov.uk
Attachments
Please consider the environment.