Global goals showcase 2017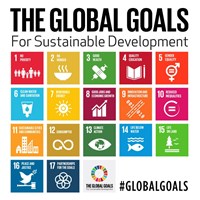 In September 2015, 193 world leaders agreed 17 global goals for sustainable development. If these Goals are completed, it would mean an end to extreme poverty, inequality and climate change by 2030!
Further information
Our governments have a plan to save our planet, but it's our job to make sure they stick to it.
In Leicester we want to raise the profile of the global goals so that every student knows what they are and how they can contribute! 
In May 2017, Leicester City Council's Sustainable Schools team held a schools' global goals celebration at City Hall in Leicester. Schools from across the city showcasing work which supported the global goals. Following the celebration, a week long showcase took place in the Highcross, Leicester. 
The schools that participated were:
Avenue Primary School
St Paul's Secondary Catholic School
Kestrels' Field Primary School
Sandfield Close Primary School
Inglehurst Junior School
Sparkenhoe Community Primary School
Madani Girls School
Medway Community Primary School
Belgrave St Peters Primary School
Christ the King Catholic School
Glebelands Primary School
Mayflower Primary School
8 Schools in the Bioblitz project
10 Schools that were part of the Leicestershire and Rutland Wildlife Trust project
10 Schools that were part of the Children's Council recycling competition
Please consider the environment.