Polli:Gen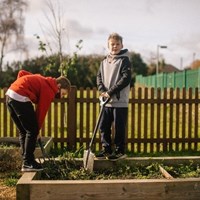 Would you like to be one of 24 Leicester schools to take part in an exciting new project that will engage pupils in outdoor learning activities to promote nature awareness, conservation and wellbeing?
Further information
Leading UK charity Learning through Landscapes, in partnership with Leicester City Council, are very pleased to inform you that we have received funding from the Government's Green Recovery Programme through the National Lottery Heritage Fund to deliver Polli:Nation for the Next Generation. Learning through Landscapes has 30 years' experience specialising in outdoor learning and play in education and is delighted to work with The Environmental Education Team at Leicester City Council to actively engage school children in developing pollinator friendly habitats at school and in the local community.
Deadline to register your interest
Applications are open until Friday 19 March to all schools in Leicester City and we are actively recruiting secondary and special schools as well as primary. Grant funding will be awarded to all participating schools.
Further information
This project will compliment Eco-Schools, Biodiversity and School Grounds project work and those previously involved in Polli:Nation. 
Download the Project information sheet [pdf 377kb] for more details.
To apply, complete this short online application. 
Please consider the environment.