LOROS - rocket round Leicester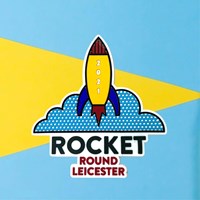 In 2021, LOROS, the local hospice charity, invited schools, colleges and community groups to join in their Rocket Round Leicester learning programme. Each school and community group pledged to fundraise for LOROS to help them continue to support people with life limiting illnesses and their families.
Further information
You may have seen the rockets displayed throughout Leicester during the summer, but read on below to find out what this fantastic fundraiser had to offer schools.
Why Participate?
Each school received a blank junior jet sculpture to design and decorate, giving creative opportunities to engage their school or community group in important topics – ranging from environmental issues and the natural world, to citizenship, health and well-being.
Each junior jet stood proudly alongside the 40 artist-designed giant rockets for the 10-week trail across Leicester in summer 2021. At the end of the trail, the junior jet was theirs to keep and display – a lasting legacy of their achievements and contribution to Rocket Round Leicester. 
What support was there?
Schools received a resource pack to accompany the junior jet sculpture which was specially created by the National Space Centre, the Sustainable Schools team at Leicester City Council and Leicester City in the Community. These helped to support with fundraising, fun classroom games, workshops and curriculum approved lesson plans across a variety of subjects. The Space Centre and the Sustainable Schools team also offered virtual assemblies and some CPD training for schools that took part. 
To find out more
This YouTube clip of the learning inspiration evening gives an overview of the project and is a great way to find out more.
You can also email the LOROS project coordinator Emma Baxter at emmabaxter@loros.co.uk for more details.
Please consider the environment.