Newsletters and e-bulletins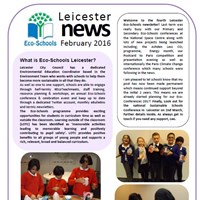 We produce monthly eBulletins and quarterly newsletters. Below you will find copies of previous publications.
Further information
To be added to the list, email eco-schools@leicester.gov.uk
Newsletters
Organisations and schools are invited to submit articles. The criteria is
    •    It should contain no more than 200 words
    •    Contain at least 1 photo
    •    Contain a minimum of contacts details e.g. name and email address
 
The deadlines are:
Spring newsletter - Friday 31 March 2023
Summer newsletter - Friday 30 June 2023
Winter newsletter - Friday 5 January 2024
If you would like to add a piece, please email sustainableschools@leicester.gov.uk
e-Bulletins
Our e-bulletins are emailed every month during term-time and contain up to date information about competitions, projects, funding opportunities and activities related to environmental education. 
In February 2022, we moved to a new format, Microsoft Sway, for eBulletins. Note that clicking one of the links below to eBulletins from February 2022 will open a new tab to the Microsoft Sway website.
To prevent clutter, we only display the newsletter and e-bulletin files for the current and previous academic year. If you would like to access files from before September 2021, please email sustainableschools@leicester.gov.uk.
Previous e-bulletins that were managed through Mailchimp can also be found in their archive.
Please consider the environment.