Carbon Literacy Project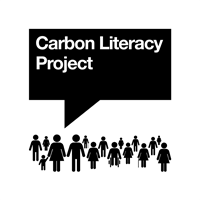 Carbon Literacy: "An awareness of the carbon dioxide costs and impacts of everyday activities, and the ability and motivation to reduce emissions, on an individual, community and organisational basis."
Further information
In February 2019, Leicester City Council declared a climate emergency. We have developed a climate emergency programme of action to reduce carbon with an ambition of the city becoming net zero carbon.
In order to raise awareness through the community of Leicester we are using The Carbon Literacy Project as a way of accrediting university students & school staff and governors to become Carbon Literate trainers who will deliver training to school students within the city.
Training offer for school students - Carbon Literacy or carbon awareness 
In order for students to be 'Carbon Literate' there is an externally accredited certification requirement which is £10 per student. The benefits to students being formally accredited include:
Learners will receive a recognised certificate that is linked to the wider international Carbon Literacy Project, with 27,000 certified learners worldwide and counting.

This certification has spanned from schools students, to CEO's, and confirms that the participant has a basic understanding of climate change, how they are contributing to this on a number of levels, and have taken action to reduce this.

It offers a real employment benefit, putting them a step-ahead in showcasing their commitment and understanding of the need for a low-carbon society. Though potentially less useful for primary school students, this might resonate more with younger secondary school students as they start to think about future careers. Many organisations list 'being Carbon Literate' on their desirable skills within job specifications, as it can help contribute towards their total of CL certified staff and CLO award.
However, we do not want budget to become a barrier for students accessing the learning. We have therefore agreed with The Carbon Literacy Project that students who are not externally accredited will become 'carbon aware'. This option is only available to school students. We expect this to be the case for the majority of primary and secondary students. However we would encourage you wherever possible to accredit students - especially upper secondary and sixth form students. 
Our focus is two year groups - Y5 in primary/juniors and Y8 in secondary, however other year groups can be considered.
The training takes place during a normal school day and a whole class or year group can participate at once. The training will be delivered by the Sustainable Schools Team along with university students from DMU and the University of Leicester. You just need to provide a classroom or larger space to accommodate multiple classes, and access to ICT.
The sessions will take place in the 2021/22 academic year.
To register your interest email Laura or call 0116 454 7156
Carbon Literacy training for school staff and governors
In order to raise awareness through the community of Leicester we are using The Carbon Literacy Project as a way of accrediting school staff and students to become Carbon Literate.  This equivalent one-day course will enable participants to be Carbon Literate and support them deliver their own course back in school. Following the success of our recent virtual courses we host termly training. (You must attend all sessions to pass).
If you work or volunteer in a Leicester School, the course is free to attend, and we cover the cost of external accreditation at £10 per person. 
Why participate?
Gain a better understanding of how climate change will affect you and those around you

Become an accredited Carbon Literate individual

Acquire knowledge and skills to develop your own responses to lowering your carbon footprint, and the carbon footprint of others

Gain knowledge of delivering a course about basic climate change science to your students

Help to enable students to become Carbon Literate or carbon aware
Your commitments
Attend all training sessions (for online training this is 3 online sessions)

Complete feedback about your experience

Create at least one significant action, as an individual, to reduce your own personal carbon footprint

Create at least one significant action involving other people to reduce the collective footprint of your workplace, community or place of education

Encourage your school to participate in Carbon Literacy either by delivering training yourself or arranging for Leicester City Council to deliver in-house (at a future date to be confirmed)
How to book
To find out more please email eco-schools@leicester.gov.uk.
We will also be hosting future courses for staff in May 2022, details to be confirmed.
Attachments
Please consider the environment.