Tiny forests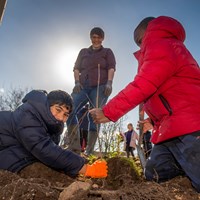 Tiny Forests are dense, fast-growing areas of woodland planted with the aims of reconnecting people with nature, mitigating the effects of climate change and creating nature-rich habitat patches in urban environments.
Further information
Why do we need Tiny Forests
Environmental issues such as flooding, heat stress and loss of biodiversity are increasingly affecting urban areas.
Creating thriving and climate-resilient urban areas that support economic growth, whilst also enhancing livelihoods and wellbeing, is a considerable challenge.
Tiny Forest can play a part in facing this challenge. They bring the benefits of a forest – reconnecting people with nature and raising awareness, helping to mitigate the impacts of climate change, as well as providing nature-rich habitat patches to support urban wildlife – right into the heart of our cities and urban spaces.
Help mitigate the effects of the climate crisis, one Tiny Forest at a time.
What is a Tiny Forest?
A Tiny Forest is a dense fast-growing native woodland, based on an established forest management method developed in the 1970s by Dr Akira Miyawaki.
Environmental and social data is collected for every forest we plant, this helps us assess the benefits they provide over time and between different forests.
600 trees planted densely in a tennis-court size plot, maximising benefits per m2 of land
Planting method encourages accelerated forest development and uses no chemicals or fertilisers
Low management and maintenance requirements after the first two years
Rich biodiversity, capable of attracting over 500 animal and plant species within the first 3 years
A nature-rich accessible green space and outdoor classroom for people to reconnect with nature
Monitoring data gathered by citizen scientists to help understand how Tiny Forests develop, and quantify the climate benefits
Links to business sustainability, corporate social responsibility (CSR), and environmental, social corporate governance (ESG)
How can we use Tiny Forests in schools?
Tiny Forests are a fantastic way to engage young people with the environment. The school community can be involved in the planting and maintenance of the forest. There is a space left as an outdoor classroom to encourage further use of the Tiny Forest in years to come. To date, we have planted 20 Tiny Forests in schools across Leicester City. Many of these were planted in partnership with Severn Trent Water and the Birmingham 2022 Commonwealth Games. If your school is interested in having a Tiny Forest on site, please complete our online form. 
Deadline for completing the form is Friday 31 March 2023. 
Get in touch
If you would like more information, please contact Laura Barke at laura.barke@leicester.gov.uk.
Attachments
Please consider the environment.