Air quality education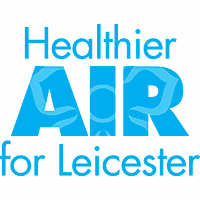 Our air quality education officer can provide schools with a quality, curriculum-linked education programme full of opportunities to raise awareness, learn and explore inside and outside of the classroom. Students can engage in activities from experiments and data collection to campaigning for healthier air.
Further information
About air quality
Poor air quality affects people's health and damages the environment. In Leicester there are two main pollutants of concern: nitrogen dioxide and particulate matter. The main source of these pollutants is road traffic, in particular diesel engines.

Leicester has an air quality action plan, a strategic approach to delivering better air quality. This action plan sets out how we will improve air quality and meet the EU standards for nitrogen dioxide, but we cannot achieve this alone. We are asking you to support tackling air quality by tackling parking around your school and actively encouraging sustainable transport for students, staff and parents.
What is the air quality education programme?
Air quality education will be delivered through a free tailored programme of activity to suit your school's needs and links into the national curriculum.
There will be opportunities to participate in activities inside and outside of the classroom; performing experiments and investigating local air pollution levels, as well as planning bespoke activities with students and teachers to campaign for healthy air and tackle air pollution.
Schools will be offered support and guidance, with the option of sessions led by the air quality education officer. Tools and resources will be available for teachers to independently incorporate activities into your own lesson plans – making our programme adaptable.
Air quality education activities can include:
learn about air pollution and the air quality around your school
assemblies to raise awareness
curriculum linked lessons and activities
outdoor learning opportunities
after school clubs
school community events for parents and children
training opportunities for school staff
access to universities, other charities and organisations 
Healthier air for Leicester schools award
Schools can participate in the Healthier air for Leicester schools award. The criteria are linked to school projects and awards you may already be participating in across Eco-Schools, Living Streets, School Run Parking and the Sustrans schools cycling project. These activities offer a unique opportunity to explore air pollution and change the behaviour of the whole school community and beyond.
Links to eco-schools topics:
Contact information
My contact details are:
Danni Kennell
Air quality education officer
Phone: 0116 454 0166
Mobile: 07732 603 694
Email: danielle.kennell@leicester.gov.uk
Twitter: @DanielleKennell or @EcoSchoolsLCC
Global goal links
3 - Good health and wellbeing
4 - Quality education
13 - Climate action
17 - Partnerships for goals
Please consider the environment.