The Big Difference Scheme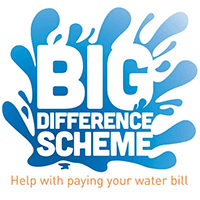 The Big Difference Scheme can help customers who are in receipt of a low income and struggling to pay their water charges. If eligible for the scheme, customers could receive up to 90% off the average Severn Trent Water bill.
Further information
If the individual has a child who is eligible for income based free school meals, it is likely they will qualify for the scheme.
To apply for a reduction customers can complete our online application via www.bigdiff.co.uk. 
For more information please visit – www.sttf.org.uk/big-difference-scheme/
Any Citizens Advice office will be able to tell you more about the Big Difference Scheme and help you apply.
Attachments
Please consider the environment.