The ink bin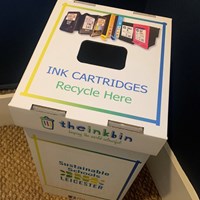 We have joined up with the Ink Bin to recycling ink cartridges and raise funds for your school. We have 40 collection bins which will be distributed to schools throughout Leicester City on a first come, first served basis.
Quick links
Further information
To participate, please complete this eForm as soon as possible.
The Ink Bin can accept all small ink cartridges, and many of them are sent for recycling and reselling - a little like a reusable bottle. Funds are raised for the HP and Cannon cartridges (with a copper strip), however they will collect other ink cartridges and recycle at their cost - so please aim to have at least some HP and Cannon in each collection. 
Once the bin is full, they arrange collection and the recycling shall begin. 
Frequently asked questions are available on the Ink Bin website FAQ pages.
This scheme is only for ink cartridges, not toners. If you have toners to recycle there is further information on the Ink Bin website.
This will also contribute to your waste Eco-Schools projects.
Attachments
Please consider the environment.