Living streets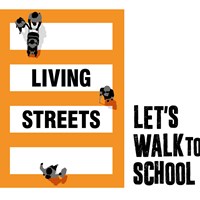 Free support and resources are available to encourage more students and families to travel actively to school. The Walk To Project is being delivered by Living Streets, the UK charity for everyday walking, in association with Leicester City Council and funded by the Department for Transport.
Quick links
Further information
Katie France
Project Coordinator (Leicester), Living Streets
katie.france@livingstreets.org.uk
07808 640305
For infant, junior and primary schools:
WOW – the year-round walk to school challenge
WOW rewards children who walk, scoot, cycle or park and stride to school at least once a week with a monthly badge. Daily journeys are logged by pupils on our interactive Travel Tracker accessed through the class computer, iPad or whiteboard. The Travel Tracker shows which pupils have earned a badge and you can run reports to see travel habits at a school or year group level. You can use this data in lessons, as evidence for Eco-Schools, Healthy Schools or Modeshift awards, or to inform your School Travel Plan.
For secondary schools:
Free Your Feet Week
Free Your Feet is a week-long challenge which raises students awareness of the benefits of walking and encourages them to walk all or part of the way to school every day for a week. You'll be provided with materials to encourage walking and also to monitor and collect information on how much each student has walked. By way of encouragement, all students who participate are in with a chance to win a £50 shopping voucher. The challenge can be run for the whole school or just one year-group. It works as a stand alone campaign or can be incorporated into your other health/ environment/ road safety/ citizenship events.
Student-led campaign
Living Streets will facilitate a student-led campaign to promote walking to their peers. Workshops to plan and create the campaign can be any length from a single day to a weekly session for up to 3 months. A typical campaign might be developed over six 1 hour sessions over a half term. A budget of £180 will be available for any campaign related costs. It's entirely up to the students' creativity what type of campaign they create – but we have some ideas if they need them! This can be an ideal activity for your School Council, Eco Council or Student Leaders.
Global Goal(s) your project supports:
3 – Good Health and Wellbeing
11 – Sustainable Cities and Communities
13 – Climate Action
17 – Partnerships for the Goals
Please consider the environment.