Living streets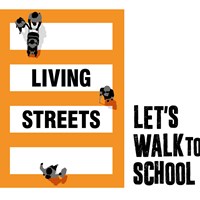 Free support and resources are available to encourage more students and families to travel actively to school. The project is being delivered by Living Streets, the UK charity for everyday walking, in association with Leicester City Council and funded by the Department for Transport.
Further information
Katie France
Project Coordinator (Leicester), Living Streets
katie.france@livingstreets.org.uk
07808 640305
For infant, junior, primary and SEN schools:
WOW – the year-round walk to school challenge
WOW rewards children who walk, scoot, cycle or park and stride to school at least once a week with a monthly badge. Daily journeys are logged by pupils on our interactive Travel Tracker accessed through the class computer, tablet or whiteboard.
The Travel Tracker shows which pupils have earned a badge and school staff can run reports to see travel habits at a school or class level. This data can be used in lesson activities as well as to track and celebrate improvements in active travel rates. It can also be used to inform your School Travel Plan or as evidence for Eco-Schools, Healthy Schools or Modeshift STARS awards.
On average, WOW schools see a 30% reduction in car journeys taken to the school gate and a 23% increase in walking rates.
Living Streets will help you to set-up and launch WOW as well as be on hand to offer any support you need once you're up and running. Curriculum-aligned resources that fit with the monthly badge topics are also provided.
WOW can be adapted to suit your schools needs so please give Katie a call to discuss how the scheme could work best in your school. She can also visit to show you the resources and demonstrate how the Travel Tracker works.
For secondary schools:
Next Steps to Secondary School
To ensure a smooth transition from primary to secondary school, students and their families need to feel confident about their new school journey. Next Steps to Secondary School focuses on this transition period. The initiative takes place across two stages and can be delivered by Living Streets or independently by your school.
The first step takes place in the summer term by engaging Year 6s at your Transition Day (by presentation, workshop or stand). Students are asked to consider the benefits of different modes of travel and prompted to think about how they will choose to travel to your school. They are given a leaflet and a magnet to take away to help them start planning their new journey over the summer holidays.
The second step takes place in the autumn term with the new Year 7s being set a walking challenge to reinforce the benefits of active travel to school. Students are tasked with tackling a variety of walking challenges and entered into a prize draw for a £50 Love to Shop voucher for their participation. You will be given resources to launch and run the challenge.
The duration and timing of the walking challenge is flexible; however we recommend allowing between a week and a month during October's International Walk to School Month.
Global Goal(s) your project supports:
3 – Good Health and Wellbeing
11 – Sustainable Cities and Communities
13 – Climate Action
17 – Partnerships for the Goals
Please consider the environment.