Food for life - soil association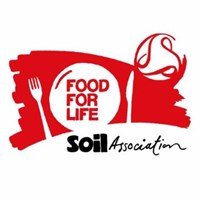 Food for Life's national award scheme brings together the whole school, making lunchtimes a more positive feature of the day, setting up visits to local farms to learn about where food comes from, teaching practical cooking skills, learning to grow food in their school gardens and linking this to the wider community.
Further information
We support schools to achieve awards which recognise the great work going on in schools to change food culture and promote healthy eating. It is free to enrol and offers access to a wide range of resources and free training.
Global goals this project supports
2 - Zero Hunger
3 - Good Health and Wellbeing
12 - Responsible consumption and production
15 - Life on Land
Free Food for Life training
At this time of disruption, our Food for Life training offers the opportunity to develop your understanding of the Food for Life programme, increase your confidence in teaching within the Food for Life framework and supports your Food for Life activities.
With healthy food high on the national agenda, never has there been a more relevant time to join our 'Smart Eating training for Chefs, Cooks and Midday supervisors in Schools' training. This training is aimed at those on the ground working in schools, helping children to eat healthy food.

The training introduces nutrition, using Public Health England's Eatwell guidance, alongside practical examples and solutions on everything from portion control to picky eating. Trainees come away feeling empowered on the impact they can have every day, supporting children to eat well. 
If you have any questions or you're having issues signing in please email ffltraining@soilassociation.org or Ldidier@soilassociation.org
Organic September is here!
Join Food for Life as they listen to nature this Organic September.
It's a great way to get children to make the connection between growing, cooking and eating sustainably by getting their hands dirty and doing it themselves.
It's easy (and fun!) for schools to get involved and we've got a host of great ideas and resources.
Download the Nature Action Pack to encourage children to get outdoors and listen to nature. This includes:
Listen to nature checklist
Guide to British bees
How to create a wildlife haven at home 
Organic September placard window poster 
Colouring sheet
We hope you will enjoy these free resources! Don't forget to share what you get up to on social media, tagging @SAfoodforlife and #OrganicSeptember!
Kids take over the kitchen day
On Tuesday 13 September, it's 'Kids take over the kitchen day'. Ask children to pick some produce from the school garden or allotment that they've grown and use this in a recipe!
Here's a recipe for carrot and coriander soup using ingredients that you've grown. 
This can help work towards your Food for Life award criteria and is a great way to build cooking skills as well as help children understand where food comes from.
Cook and share month
Cook and Share Month is back for 2022! It begins on World Food Day on Sunday 16 October, until Friday 18 November.
Cook and Share is a month-long celebration for community volunteers, schools and communities to get together, build relationships and use food to connect.  
Why not host a cooking session, lunch share or family event and get your whole school community to Cook and Share together? You could even involve your local care home or allotment group and open your doors to your community!
This is a great way to incorporate the Whole School Approach to food, going beyond the school gates to create a good food culture.
Registrations are open already and if you sign up to the Food for Life newsletter you'll be the first to receive free resources, recipes and toolkits.
Competition
Food for Life are holding a competition to support our schools and early years settings in completing their FFL award and improving children's health. 
Joe Wicks is giving away a signed copy of his new children's book The Burpee Bears and a bundle of HarperCollins children's books to three winners.
What do you need to do?
This will help you achieve 4.1 and 3.2 of your awards criteria!
Contact details / get involved
Lisa Didier - Leicester City Local Programme Manager
Based in Leicester. Head office: Soil Association, South Plaza, Marlborough Street, Bristol BS1 3NX
Email: ldidier@soilassociation.org
Mobile: 07718 570945
Twitter: @LDidierSA
Website: Food for Life
Food for Life Twitter: @SAFoodforlife 
Please consider the environment.