Food for life - soil association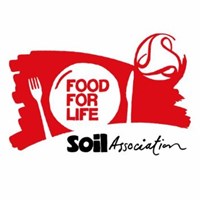 Food for Life's national award scheme brings together the whole school, making lunchtimes a more positive feature of the day, setting up visits to local farms to learn about where food comes from, teaching practical cooking skills, learning to grow food in their school gardens and linking this to the wider community.
Further information
We support schools to achieve awards which recognise the great work going on in schools to change food culture and promote healthy eating. It is free to enrol and offers access to a wide range of resources and free training.
Global goals this project supports
2 - Zero Hunger
3 - Good Health and Wellbeing
12 - Responsible consumption and production
15 - Life on Land
World Food Day - 16 Oct 2020
Are you celebrating World Food Day in your school? It is the perfect opportunity to take part in Food for Life Get Togethers and enjoy some good, nutritious food from different cultures. 
Why not share food folk stories from around the world while enjoying your World Food Day lunch? 
Overdale Junior School working toward Gold Food for Life award
We are pleased to show you this video of the excellent work by Overdale Junior School. The school are working towards their Gold Food for Life award and this video presents the fantastic work they have been doing in school on the whole school approach to health and wellbeing.
Through this award, Overdale Junior school has being working to; improve the health of their pupils, provide healthy school meals, improve lunchtimes, increase food education through cooking on the curriculum and food growing. Overall this has had a positive impact on both pupils and the wider community.
Food for Life offers a flexible framework with free resources and free support to schools to assist in making changes to improve the health and wellbeing of pupils and the wider school community.
Contact details / get involved
Lisa Didier - Leicester City Local Programme Manager
Based in Leicester. Head office: Soil Association, South Plaza, Marlborough Street, Bristol BS1 3NX
Email: ldidier@soilassociation.org
Mobile: 07718 570945
Twitter: @LDidierSA
Website: Food for Life
Food for Life Twitter: @SAFoodforlife
Please consider the environment.