Food for life - soil association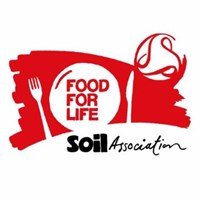 Food for Life's national award scheme brings together the whole school, making lunchtimes a more positive feature of the day, setting up visits to local farms to learn about where food comes from, teaching practical cooking skills, learning to grow food in their school gardens and linking this to the wider community.
Further information
We support schools to achieve awards which recognise the great work going on in schools to change food culture and promote healthy eating. It is free to enrol and offers access to a wide range of resources and free training.
Global goals this project supports
2 - Zero Hunger
3 - Good Health and Wellbeing
12 - Responsible consumption and production
15 - Life on Land
Free Food for Life training
At this time of disruption, our Food for Life training offers the opportunity to develop your understanding of the Food for Life programme, increase your confidence in teaching within the Food for Life framework and supports your Food for Life activities.
With healthy food high on the national agenda, never has there been a more relevant time to join our 'Smart Eating training for Chefs, Cooks and Midday supervisors in Schools' training. This training is aimed at those on the ground working in schools, helping children to eat healthy food.

The training introduces nutrition, using Public Health England's Eatwell guidance, alongside practical examples and solutions on everything from portion control to picky eating.  Trainees come away feeling empowered on the impact they can have every day, supporting children to eat well. 
If you have any questions or you're having issues signing in please email ffltraining@soilassociation.org or Ldidier@soilassociation.org
Funding available with Bite Back!
Supported by Food for Life, a new initiative launched by Bite Back 2030 is aiming to empower pupils in Key stage 3 to make positive changes to their food culture. Bite Back is a new, youth-led movement empowering pupils to put good food at the heart of a healthy, high performing school community.
Get your school and pupils involved and to find out more about Bite Back
Food for Life Get Togethers update:
Plant and Share
Plant and Share Month from 19 April - 19 May celebrates growing your own., Food for Life Get Togethers is calling on the nation to get growing and sharing their produce with their communities.
Find out more about Plant and Share Month here: https://www.fflgettogethers.org/our-events/plant-and-share-month/
Food for Life Get Togethers
Food brings people together. And right now, it's more important than ever to stay connected with one another. Find out how your school community can get involved. There are small grants of £150 available to support community led food growing, cooking and sharing activities through the Get Togethers programme. Applications are open on a rolling basis with the next 2 assessment and award deadlines being 12th March (growing focus) and 30th April 2021 (The Big Lunch focus). See how Get Togethers works in practice via the following link: https://youtu.be/RPi0w77298Y
Find out more about the programme, eligibility and how to apply at: https://www.fflgettogethers.org/support/
Overdale Junior School working toward Gold Food for Life award
We are pleased to show you this video of the excellent work by Overdale Junior School. The school are working towards their Gold Food for Life award and this video presents the fantastic work they have been doing in school on the whole school approach to health and wellbeing.
Through this award, Overdale Junior school has being working to; improve the health of their pupils, provide healthy school meals, improve lunchtimes, increase food education through cooking on the curriculum and food growing. Overall this has had a positive impact on both pupils and the wider community.
Food for Life offers a flexible framework with free resources and free support to schools to assist in making changes to improve the health and wellbeing of pupils and the wider school community.
Contact details / get involved
Lisa Didier - Leicester City Local Programme Manager
Based in Leicester. Head office: Soil Association, South Plaza, Marlborough Street, Bristol BS1 3NX
Email: ldidier@soilassociation.org
Mobile: 07718 570945
Twitter: @LDidierSA
Website: Food for Life
Food for Life Twitter: @SAFoodforlife 
Please consider the environment.