Your environmental education team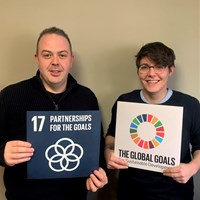 We support schools throughout Leicester on environmental and sustainable education. Your main contact is Lee Jowett, environmental education coordinator for Leicester. Working alongside Lee is graduate project officer Amy Peace and education officer Marc Tench.
Quick links
Further information
Lee
My name is Lee Jowett, and I am the Environmental Education Coordinator in the Environment Team at Leicester City Council. I have been in post since September 2014.
I have previously worked as a science teacher for 10 years in three secondary schools in Sheffield. I was responsible for coordinating sustainability & Eco-Schools in 2 of these schools for over 5 years. In that time I worked with many external agencies in supporting the schools' sustainability ethos such as Sustrans 'Bike It', Fairtrade Schools, International Schools, Sheffield Wildlife Trust and Veolia. Under my leadership the school was awarded the Green Flag Eco-School Award, Jane Goodall's 'Roots and Shoots' Gold Award, Sheffield Telegraph Sustainable Schools Award Winner, Sheffield Care4Air Award Winner, Fairtrade Schools Award and Full International Schools Award – so it was a very busy time!
Before joining Leicester City Council I completed my MA in teaching and learning focusing on the impact of environmental education. I am a Chartered Science Teacher (CSciTeach). I chair the environmental, health and wellbeing group in Leicester - a group that brings together individuals who work to improve the health and well-being of students and raise their awareness of environmental issues in Leicester City. I am chair of trustees at the Attenborough Learning Trust in Leicester City (a multi-academy trust of 4 primaries). I have a real passion for engaging students in real life challenges around climate change and the environment by ensuring schools are able to offer quality teaching and learning in these areas. 
My role is to support schools in Leicester to develop their sustainable ethos. If you would like your school to work with me, which I hope you do, please drop me an email or give me a call.  
My contact details are:
Lee Jowett
Environmental Education Coordinator 

Phone: 0116 454 2271
Email: lee.jowett@leicester.gov.uk
Twitter: @EcoSchoolLCC 
Facebook: EcoSchoolsLCC
Instagram: EcoSchoolsLCC
YouTube: EcoSchoolsLCC
---
Amy
I am a recent graduate in BSc Environmental Science with The Open University. Prior to joining LCC, I completed placements at the Field Studies Council and an ecological surveying company, giving me a good knowledge of biodiversity and habitats. I am also a trustee and volunteer at an environmental education charity that focuses on sustainable living. With a background in catering, I am is also passionate about tasty and sustainable food.
I am looking forward to working alongside Lee to educate and inspire the younger generation of Leicester. 
My contact details are:
Amy Peace
Graduate Project Officer in Environmental Education 
Phone: 0116 454 4543
Email: amy.peace@leicester.gov.uk 
---
Marc
I am a former geography teacher, working for 16 years at schools in Birmingham, London and most recently Warwickshire, where I was also Key Stage 3 co-ordinator for Geography.  
I have a Masters in Education and I am currently studying for an MSc in Wildlife and Conservation Management on a part time basis. 
I also work for Forestry England, initially this was as a volunteer where I shadowed a Community Ranger, but now in a part time position, where I manage visitors, maintain trails, and work with volunteers at a site in the National Forest. 
I work Wednesdays and Fridays for Leicester City Council as an Eco-schools Education Officer, where I will mainly be supporting schools to move through the Bronze, Silver and Green Flag Eco-Schools awards. I look forward to working with the staff and young people of schools in Leicester.  
My contact details are: 
Marc Tench 
Eco-Schools Education Officer 
Phone: 0116 454 6746  
Email: marc.tench@leicester.gov.uk  
---
Attachments
Please consider the environment.