Sunflower Growing Competition 2019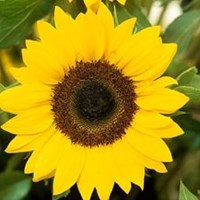 The sunflower growing competition ran since 2001 and has proved to be very popular with pupils and staff alike. The sunflower competition has now come to an end and has been replaced with the pumpkin growing competition.
Further information
Sunflower Growing Competition 2019
Congraulations to Rolleston Primary School that won, with the heaviest sunflower head in the 2019 competition (1.75kg). Congratulations to the runners up
2nd – Nurturing Group (1.017kg, 0.769kg and 0.649kg)
3rd – Bridge Junior School (0.376kg, 0.649kg)
All three schools will receive a Co-operative voucher to spend on some nice goodies. Rolleston will receive the shield with an updated panel.
Supports your Eco-Schools healthy living, school grounds and biodiversity. Please note from 2020, we are now running the pumpkin growing competition which can be found under competitions. 
How to plant your sunflower seeds
Please note trays are no longer provided. Just use a tray you will have somewhere in school.
Potting up your sunflower seeds 
If you have any further questions please email GrowYourOwnGrub@leicester.gov.uk
Attachments
Please consider the environment.