Carbon Literacy Project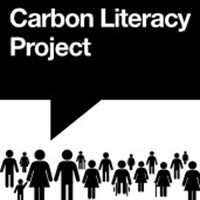 Carbon Literacy: "An awareness of the carbon dioxide costs and impacts of everyday activities, and the ability and motivation to reduce emissions, on an individual, community and organisational basis."
Further information
In February 2019, Leicester City Council declared a climate emergency. We are working to develop a climate emergency programme of action to reduce carbon with aim of the city becoming zero carbon.
In order to raise awareness through the community of Leicester we intend to use the Carbon Literacy Project as a way of accrediting university students and school staff to become carbon literate trainers who will deliver training to school students within the city.
The Carbon Literacy Trust states on their website over 10,000 individuals are carbon literate. This project would have at least 2100 people trained. 
Training offer for school students
Our focus is two year groups - Y5 in primary/juniors and Y8 in secondary, however other year groups can be considered.
The training takes place during a normal school day and a whole class can participate at once. The training will be
delivered by Lee and Amy along with university students from DMU and the University of Leicester.You just need
to provide a classroom and access to ICT.
The sessions will take place in the 2020/21 academic year.
To register your interest email Amy or call 0116 454 4543
Attachments
Please consider the environment.