Newsletters and e-bulletins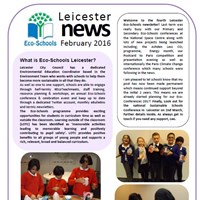 We produce monthly eBulletins and quarterly newsletters. Below you will find copies of previous publications.
Further information
To be added to the list email eco-schools@leicester.gov.uk
Newsletters
Organisations and schools are invited to submit articles. The criteria is
    •    It should contain no more than 200 words
    •    Contain at least 1 photo
    •    Contain a minimum of contacts details e.g. name and email address
 
The deadlines are:
Spring newsletter - Friday 9 April 2021
Summer newsletter - Monday 28 June 2021
Autumn newsletter -Friday 20 August 2021
If you would like to add a piece please email eco-schools@leicester.gov.uk
Bulletins
Our bulletins are emailed every month during term-time and contain up to date information about competitions, projects, funding opportunities and activities related to environmental education.
Please note some eBulletins were managed through Mailchimp and can be found in the archive.
Please consider the environment.