Hosting an Eco-Schools roadshow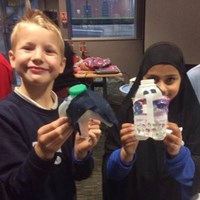 We are currently looking for schools who would like to host one of our Eco-Schools roadshow in the second half of the Autumn Term 2018/19
Further information
Following our very successful Eco-Schools roadshow last academic year (at Moat, Rushey Mead Academy, City of Leicester, Soar Valley & and Forest Lodge Education Centre) – we are very keen to run again this year, but in the autumn term.
The events went really well and were particularly helped by inviting the secondary school's feeder schools.  The events each ran from 9.30am-12.30pm.
Would your school would be willing to host one of these events?
Your commitments would be to:
Provide a large space i.e. hall from 9.30am-12.30pm
2 classrooms (close to the large space) 9.30am-12.30pm
Member of staff on hand if there are any problems i.e. ICT
Provide some student helpers if possible (they could be your school council or eco-team)
I would promote the event and coordinate all the work with the schools.
*Dates for 2020 to be announced*
If you would be able to offer your school as a venue please contact Lee Jowett or telephone 0116 454 2271.
Please consider the environment.